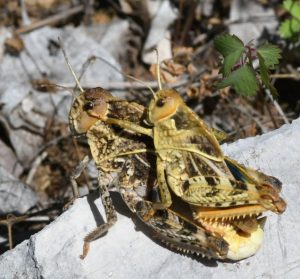 Congratulations to Nikos Filis, diploma student of the BCL of the @ Department of Biological Applications & Technology. He made a wonderful presentation yesterday on the ecology and conservation of Willemse's Stone Grasshopper and he co-authored a relevant paper! Our Lab works dynamically on the conservation of grasshoppers and encourages its students to develop as young scientists. A big success for our Department to see its students being co-authors in scientific publications already as undergraduate students. See our BCL webpage for orthoptera research:  https://bc.lab.uoi.gr/en/orthoptera/
Prionotropis willemsorum is a wonderful creature that is however threatened by extinction – main driver: the abandonment of goat grazing that keeps grassland openings in forests ans maquis zone of Zagori and Pogoni area. Future threat: the planned wind power station above Vassiliko village in Pogoni, hosting a large population of the species. Coordinated actions are needed to hamper the species extinction, which seems to be assessed as "Critically Endangered" (CR) in the new IUCN assessment reporting.
Warm thanks to the volunteers taking part in the WILLEMSORUM project, supported by the Mohamed Bin Zayed Conservation Fund. Our activities will continue in 2023. Research outputs will be communicated to the Pindos Nationap Park authorities (NECCA), hoping to trigger conservation action for this little fellow.
The congress: Filis N., Tzirkalli E., Fotiadis G., Kati V. 2023. Ecology and conservation of the Endangered (EN) Willemses' Stone Grasshopper:Prionotropis willemsorum. Second International Prionotropis Conservation Symposium. 23th March 2023. LIFE SOS Criquet de Crau and the IUCN SSC grasshopper specialist group. On line. https://cinea.ec.europa.eu/news-events/events/second-international-prionotropis-conservation-symposium-2023-03-23_en
The paper: Lemonnier-Darcemont, Μ., Zechner, L., Kati, V., Filis, N., Darcemont, C. 2022. Occurrence and threats of Prionotropis willemsorum (Massa & Ünal, 2015) in Greece. Articulata 37: 1-12